Note: This post is over 11 years old. I was 24 when it was originally posted. I stand by my old posts but bear in mind my opinions may well differ now.
The Marathon Experience
Posted on: 16 April 2012
I ran my first marathon on Sunday 15th April; the Brighton Marathon. It was amazing.
I'm not a long distance runner, I don't even remember doing cross-country at school. I only properly started running just over a year ago, but after seeing my friend Hannah (and 10,000 others) run in the Brighton Marathon 2011, with almost no running experience, I was inspired to sign up for the next one.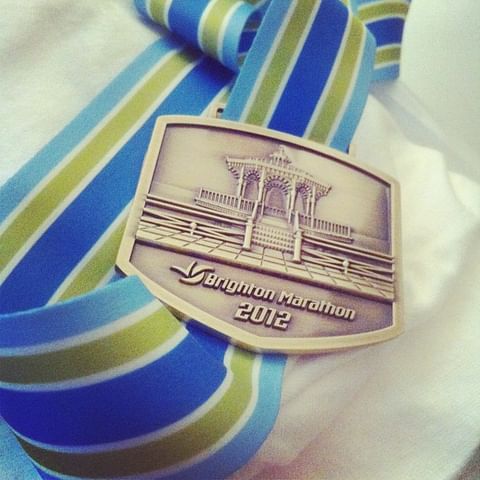 After 6 months of grueling training, involving many early sunday morning runs, various injuries, carb packed diet changes and a laundry basket seemingly always full with sportswear; the day had arrived. The week before it began to dawn on me the task that was ahead. I'd only run 18.5 miles as my furthest training run, despite aiming for 20, and it had been no easy task. Additionally I'd hurt my ankle several months ago, and despite experiencing pain in lateral movement of the joint, ruling out 5-a-side football, the consistent back and forth motion of running didn't seem to aggravate it. The night before I was involuntarily going through every bad scenario in my head. Could I run the distance? Would I get an injury? Would I hit the wall? Would I do long term damage? Had I eaten the right kind of food? Suffice to say, my confidence levels were pretty depleted.
After shoveling in as much porridge and bagel into my stomach as possible, I set out on the short walk to the start line in Preston Park. It was a surreal walk; many of my training runs had began at Preston Park, but this would be the last time in a while I'd be on my way there in running shoes. First thing that hit me was the sheer amount of people. I arrived just before half 8, with girlfriend and parents in tow, for a 9am start. The park was rammed; Expectantly so, given the 15,000 entrants and expected 100,000 spectators, but it was a shock having seem the park almost empty on many of my winter runs.
Lining up in the corrals, with the minutes ticking down before the start, I found my nerves were actually almost gone. A feeling of excitement came over me as I realised everything up until now had been leading up to this. There was a definite air of encouragement and anticipation amongst the runners; all I could see in either direction was a mass of brightly coloured and eager participants, ready to set off on the journey of a lifetime. The gentle shuffle to the start line was just the build up I needed to fully prepare myself for what was ahead of me. I couldn't help but smile as I eventually began the race, it felt like all the eager spectators eyes were on me, it's a feeling like no other.
The first mile was actually the biggest hill, leading to the highest point in the race, a strategic boost right at the start, well planned by the organisers. It was a hill I'd done many times in training and a relatively short one, so it posed no threat and I was still buzzing from the excitement of starting.
The first 6 miles or so were fairly uneventful - exactly what I was hoping for. Despite running on familiar ground, nothing can compare to the buzz of running in an official race, it all seemed new. I was so glad I decided to emblazon my name on my vest, hearing people cheering is one thing, but hearing people cheer your name fills you with confidence. Although the support in the early stages was quite small, it was still hugely encouraging to see and hear it. I started conservatively, as I'd read and had been suggested many times, and despite being overtaken in the early stages by the more eager, I was very glad I paced myself.
The next 6 miles were in the countryside, again, an area I'd tackled many times in training. It was a lovely part of the race, very calm and peaceful, with a few gentle to moderate hills. Although I didn't bond much with my fellow competitors, there was a strong feeling of togetherness and a bond as we ran, that is completely amiss during training. I was growing in confidence and began passing a few of the slower competitors. The water and fuel breaks were perfectly placed, it was amazing to see the organisation and helpfulness of the volunteers involved, always greeting you with a cold drink, a smile and words of encouragement.
It was a little discouraging to see the faster runners coming back down as I was making my way up the course, but it was all to be expected, and did little to dampen my spirits. I knew what I was aiming for, and it certainly wasn't a sub-4 hour finish. I was pleased to see a friendly face in the faster group, coming towards me on the other side of the road; we exchanged a quick hello and a few words of encouragement, before I continued on my way.
As I approached halfway, I was feeling great, which I was surprised about, but didn't dwell on it for too long; I was stoked to be feeling so fresh with half of the race gone! The crowds on the run back from Ovingdean to the centre of Brighton were fairly patchy, but as we approached the pier, I could feel the energy building up as the crowds got more concentrated and much louder. When I got to the pier, both sides of the road were jam packed with cheering people, and as the DJ read out my name off my vest I couldn't help but beam at the support of everyone around me. As at the start, it's an unmatched feeling of pride and gratitude.
After a quick toilet break just past halfway, I carried on my run. I'd been very happy with the first half of the race, but I knew the hard part was yet to come. The seemingly straight endless run into Hove, with the double-back was ahead of me - a run I'd only done once - and I wasn't much looking forward to it. I knew the infamous Road to Hell was straight after it, so I tried to put both out of my mind.
As I trudged through the miles - 13, 14, 15, my thighs began to get heavy. My shins and calves had been faithful to me and had given me little grief throughout. My ankles were their usual wobbly selves, but to be fair, they had taken me boldly so far and I was confident they'd take me the rest of the distance.
I'd taken a few strategic walk breaks in the race up until now - a technique I'd read about a few weeks earlier. Supposedly giving the muscles used when running a short rest will help them to perform better and for longer, thereby decreasing the likelihood of being forced to walk through muscle pain. The thought behind it is, you'll be able to make up the short time lost walking strategically in the middle of the race at the end, when many are forced to walk through exhaustion.
The support was consistent throughout the 6 or so miles back and forth, with many families gathered on the sides of the road, their kids offering sweets and words of encouragement. It was touching and really helps you to mentally keep going on the long straight roads. I was relieved when the road veered round to the right and the stretch was complete. Being nearer the centre again, the crowds were more concentrated, and as I followed the road round to the right, the crowd cheering my name, I knew I was approaching the final part (albeit still 8 miles to go) and found some inner strength and confident strode into it.
I could see the power station - the well known landmark marking the turning point back to the finish - but it seemed so far away. I'd run this road on several training runs, but with only single figures under my belt. With 18+ miles in my legs, I was feeling it. People around me had opted to walk, with a few unlucky soles getting medical treatment on the side of the road. I knew I should probably take in some more fuel at this point, but with the multitude of energy drinks, gels, shot blocks and sweets in my system, I couldn't quite stomach the thought.
I had a nervous wobble, where I thought my ankle might give way, but I walked it off and was pleased to be able to carry on running.
I reached mile 20, Hove lagoon, and I knew the dreaded final stretch was approaching. At 20 and a half miles, on the corner just before entering the industrial part of the course, I received a much needed boost from the Alzheimer's Society supporters. They could see I was suffering and their words of encouragement were enough to steal a smile from me. As I made my way onto the long, baron stretch of road, the intimidating factories on the right, and the faster runners running in the opposite direction on my left - having already completed the road to hell - I desperately shook the thought of the dreaded "runners wall" out of my head.
This bit of the race was somewhat of a blur for me. I was exhausted, my body most likely craving some more fuel, and all I could really think of was the next step in front of me. I was surprised to see myself managing to overtake people in front of me, because at times I felt I wasn't moving much faster than walking pace.
At last, I reached the part where the road veered off to the right, and into the factory car park. I knew I'd soon be on my way back. Unfortunately I wasn't familiar with the particular part of the course, with it being off limits to the public normally. My legs were disappointed to discover it was a longer loop than my mind was expecting and for the first proper time I dropped to an exhausted walk, to catch my breath and prepare myself for the final bit. Surprisingly, my thighs immediately shouted back at me; it was painful to walk. It was an odd dilemma - exhaustion from running versus pain from walking. I knew I was a mere 4 miles or so from the finish and could sense I was so close to starting the final stretch back to the finish line. Deciding I'd rather get there as quick as possible, I opted for running.
I picked up a gel and a fresh pack of water as I turned the corner to come back, thinking I'd probably need it to get back the final 4 miles. Chocolate flavour. Interesting. I ripped off the top and had a small gulp. That was almost too much - I was never going to finish it so I quickly discarded it, took a gulp of water and prepared myself for the task ahead. The run back to Hove Lagoon seemed to go quicker than the run there - thank God, and as I passed more and more walkers, I thanked my lucky stars I still had it in me to keep a running pace. I put it down to my carb loading!
I took the very short but steep ramp back onto the esplanade - a few metres that my muscles complained greatly at me for, and I suppressed with a grimace. I wasn't sure if the sight of the 2 piers - so far away in the distance - was a good one or not. The crowds, though, were a godsend. While there was nothing physically demanding about the "Road to Hell" - it's flat as a pancake, the almost complete absence of support was enough to do a number on your mental strength.
I'd done this particular route so many times in training, and it had seemed so short during casual 10 mile runs. The last hour or so, I'd been getting myself through by breaking the course up into small manageable chunks - advice I'd taken in before the race. I visualised the King Alfred swimming pool in Hove, the point just before Hove lawns, and that was what I was now running towards. The crowd at this point of the race could tell how much every runner needed help, it felt like almost every single person was applauding or cheering or shouting my name. I consumed my last jelly baby from a small girl reaching out a bowl onto the course. That, I could just about stomach.
Hove lawns had never seemed so long as I ran past the 24-mile marker. It was around this point, that I somehow began pushing. The heavy feeling in my thighs and hamstrings that had plagued me for the last hour or so began to be relieved. I was overtaking people and the faster I ran, the more the crowd got behind me. I kept telling myself I still had 2 miles to go, and that I'd need this energy for last 500 yards or so. But adrenaline had taken over at this stage.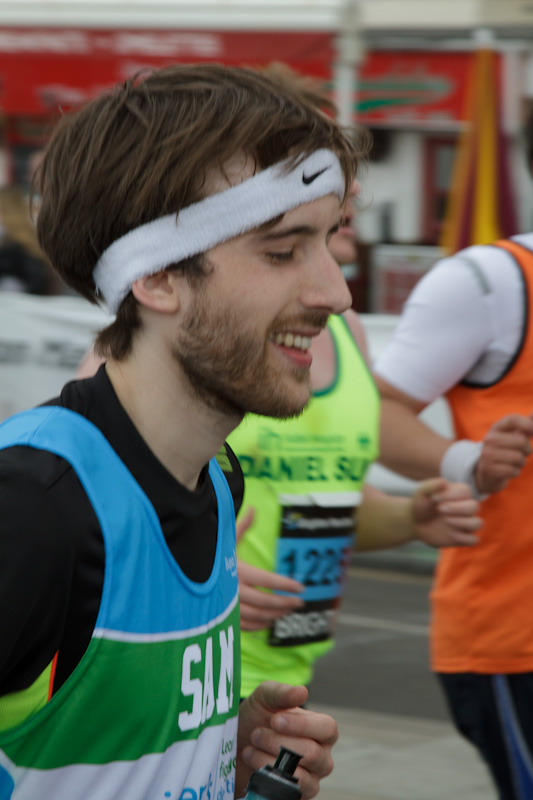 As I got to the end of Hove lawns and back onto the main road, a little over a mile to go, I could feel myself speeding up further. The road was wider, the crowds were thicker and the finish line was edging closer. I couldn't see the finish line yet, but as I passed the West Pier, I knew once I got to Brighton Pier I would almost be there. My legs were unrelenting. I'd had nightmares of images of people limping over the line, barely able to move by the end, but somehow I found myself giving it every I'd got. As I reached Brighton Pier, and turned the final corner towards the finish line, going against all advice I'd read, my legs opened up. It was a bit of a blur but I must've overtaken half a dozen people or so as I ran the final few metres to the finish lane.
I'd made it. I couldn't believe it. As I passed under the gantry I was reminded of the feat I had just completed. I had run a marathon. I was told I should be very proud of myself. And I was. I limped towards the swarms of volunteers, gratefully receiving my finishers medal around my neck and a silver blanket securely around my shoulders. It was utterly surreal, and as the muscle exertion finally caught up with me after 26.2 miles and a final dash for the finish line, I all but collapsed on the grass.
I later found out I came in at a time of 4:28:26, coming under my target time of 4 hours 30 minutes; I was overjoyed.
Completing a marathon is a feeling like no other. I urge you, give it a go.