My Half Marathon experience
Posted on: 6 March 2022
Almost 10 years ago, I ran a marathon. It was an amazing experience. A lot of time passed, during which it's fair to say I fell out of love with running. But the simple joy of Parkrun hooked me back in, and numerous national lockdowns due to the pandemic pushed running back onto my radar properly. But it was seeing my sister complete Brighton Marathon 2021 last September that gave me the push to sign up to my first race in almost a decade.
Moving house during a second Covid lockdown, I decided at the end of 2020 to kick my running habit up a gear. Parkrun was still off, and I had a new town and countryside to explore. At the turn of the new year, I was in a reasonably good habit of running twice a week. My distances were increasing, and I was slowly shaving time off my 10k PB as the year progressed.
I was running up to 15km distance on my runs but didn't really see the appeal of going much further. I was clocking on average 18km/week. But when parkrun resumed in August, I was right back on the 5k track. I love the 5k distance, it's so good for measuring progress and a really accessible distance to work towards as a beginner. 8 or so months of regularly running longer distances had really helped my stamina for 5ks. I set a couple of new PBs, including a 21:31 the day before Brighton Marathon at Preston Park.
And it was the next day, Brighton Marathon 2021, where the long distance bug bit me hard. My sister was as nervous as anything on the Sunday morning, trying to prepare mentally for her first ever Marathon. And all I could think about was how much I wanted to be joining the race. The pre-race buzz is stong and intoxicating. I knew I needed to get me some of that. After a memorable and celebratory day supporting the runners in Brighton, a few days later I signed up to the Brighton Half 2022.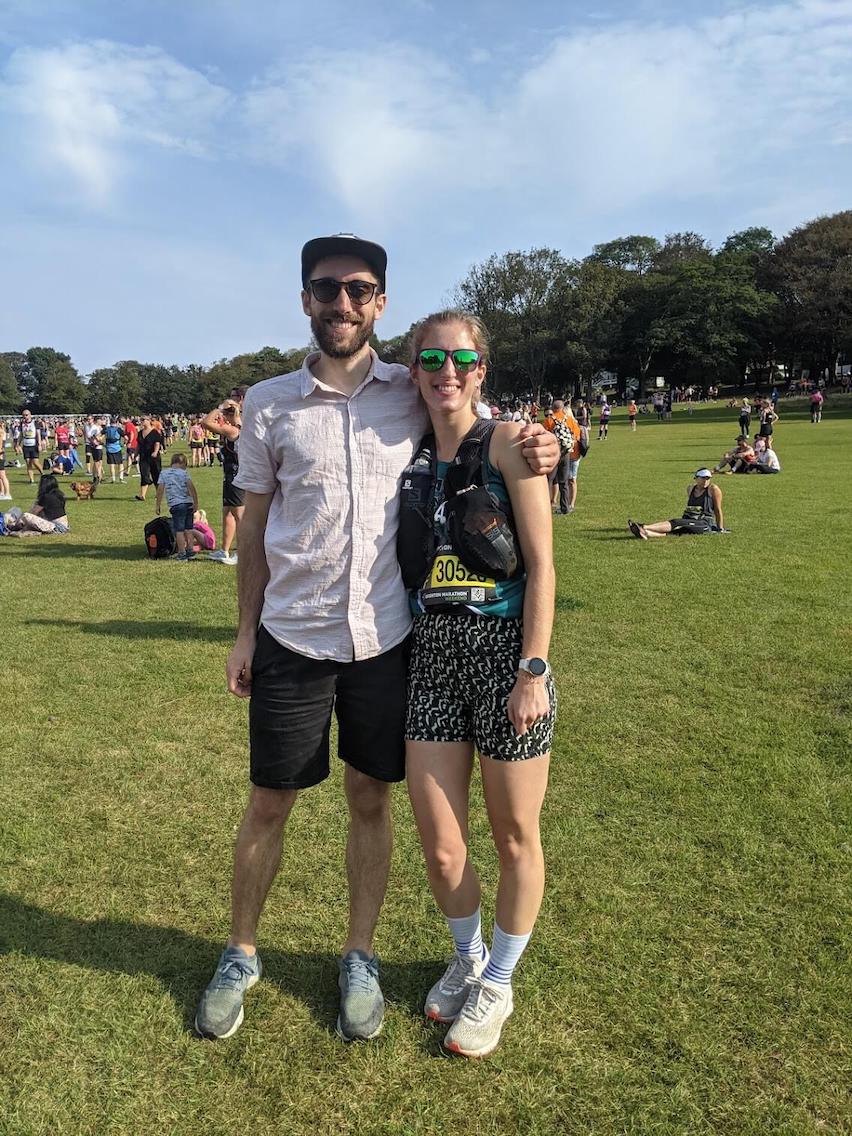 I was back to running the longer distances at the weekend, fresh with enthusiasm for a new challenge. Admitedly the timing for the half marathon and accompanying training was not ideal. My wife, Charlotte, and I were expecting our second child at the end of October. Suffice to say, the training took a hit in November as we welcomed our baby daughter Alba into the world. November was a challenging month, but I forced myself to get out twice a week and run what I could. And let's face it, running is as cathartic an exercise as you can get.
Towards the end of the year, I was starting to increase the mileage and hitting some 12, 14 and 15km distances. At the turn of 2022, I decided I needed a more rigid training plan. I had planned on running twice a week (plus playing football on Mondays), but the training plan I signed up for was insistent on 3 (4 in fact, but we compromised on 3 days). So in the last week of December, I committed to a running schedule of Wednesdays, Fridays and Sundays.
This was a godsend, looking back. The simple act of having a schedule, even though I was accountable to no one but myself, was enough to keep my training consistent and on track. By the end of January I was regularly grinding out 35km weeks and growing in confidence that I'd be able to smash the 13.1 miles at the end of February.
My Wednesday session was a tempo run generally, and Friday was invariably Fartlek; a practice I had not done before and found challenging but effective. Sunday was my long run, which started to prove challenging for my regular Monday night football.
In the first week of February I hit a 20k-er. It was tough. I didn't fuel properly and stepped up the pace too much in the middle of the run. By the end I was well and truly pooped, and wiped out for the rest of the day. I covered some hefty elevation gains too - 195m. I hit an average pace of 4:58/km which I was pleased with.
The next Sunday I was back on it. I planned a figure-of-eight route that allowed me to refuel properly at my house halfway through. I paced myself better, and finished strong, hitting the full 21.1km (178m elevation). I ran at a much healthier training pace of 5:11/km. This also included a poorly thought out section of the run through a field of mud.
My final long run before the day was 16.7k at a pace bang on 5:00/km (153m elevation). I was buzzing for the race the following week. All that was left was to decide what my "race pace" target was to be. My conservative target was sub-1:45 (4:58/km), but I knew I could beat this on the flats of Brighton seafront with the buzz of the crowds behind me. I had a rough plan to find the 1:45 pacer and follow them for at least half the race, and decide how hard to push ahead after that.
My sister Ellie, the marathon runner back in September, was also racing, and she was staying with us, along with another of my sisters, Cat, who was to be our helper on the day. The day started perfectly to plan and we were out the house, fuelled-up, reasonably well-rested and on the short ride to Brighton.
We got a spot in Brighton station car park, which was provided for free for the day. Getting out the car the weather was noticably bitter. Bitingly cold, windy, but beautifully crisp and clear. We walked the 20 minutes down to the seafront then made the mistake of joining the sizeable queues for the portaloos. 15 minutes later, we jogged hastily to the starting corrals, only to discover a completely vacant second set of toilets, and the race about to start! With a fast start - and my plan - out the window, we quickly shed our outer clothes and nipped in at the back of our coloured section.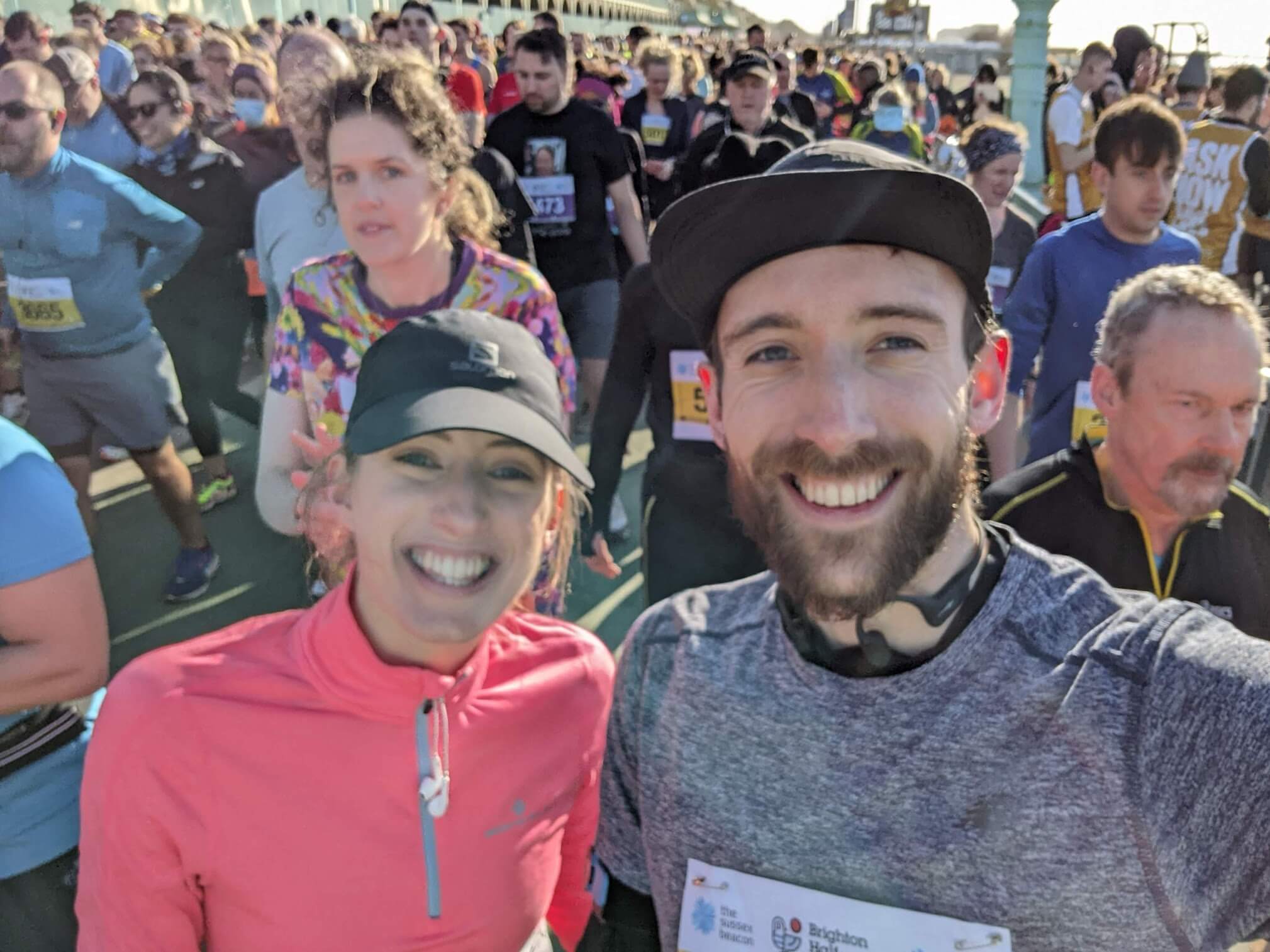 It was a lovely start to the race, running with Ellie, trying to dodge and weave in between people. The first 2 kms passed by quickly, were gently up hill, but at a very slow pace as we couldn't get through runners quick enough. At 3k I was very mindful of my targets, and could see the road was starting to clear. I said a quick goodbye to Ellie, exchanged a high five, and powered on. The course looped back round past Brighton Marina and started on the gradual downhill back to Brighton. I was cautious not to overdo it, but knew I had a lot of catching up to do, so settled into a solid 4:50/km pace.
My heart rate was high (165), much higher than in training, but I felt fine. In hindsight I think this was caused by adrenaline. The crowds were great, particularly around the pier. I was mindful to thank people for their support.
Taking on fluids was a bit tricky. The cups provided were very difficult to drink from at running pace, and stopping seemed counter intuitive. I choked on the first load so kept my future hydration to a few small sips. Running up through Brighton and around the Level was well-supported and an enjoyable section. I hit 10k at the slow time of just under 50 minutes - my slow start to blame. But I'd set my watch to show me average pace and I was keeping a careful eye on that as it gradually ticked under 5:00/km. At this point, I was maintaining 4:50/km for most of my splits so I knew I was on track for a finish under 1h45.
Kilometres 11 to 16 were largely uneventful, save for a couple of slightly awkward course loops. I was maintaining pace, going past people who had started ahead of me and feeling good. The strong sea wind was in my back, but I knew it was about to change. As we turned left in Hove, the rhymical banging of drums in my ear, and the support loud and clear, I knew this wind was finally going to hit me. And it did. The moment we got onto the seafront and headed East the wind took hold.
The 17th kilometre was a tough one. No shelter, and no rest from the wind. I tried to maintain pace but dropped off slightly, registering a 4:56. As we got into the less open areas with a bit of cover, things improved slightly. I knuckled down and concentrated on my feet. A 4:55 and 4:56 followed in kilometres 18 and 19. For the first time I was starting to breath very heavily. I started focussing on long exhales, trying to bring my heart rate down. The crowds were growing and support was getting louder. I still had it in my legs, but I was out of breath and my heart rate was pushing 176bpm. An enthusiastic cheer from Cat in the crowds was a nice little booster.
It was now or never. My watch hit 20km and I knew I had to push it if I could. Support here was thick, with crowds either side cheering runners to the finish. The atmosphere was electric. In hindsight I probably started my final dash either a little too early or a little too strong. But I remembered what I said to Ellie the evening before. If I could run the final kilometre faster than any other, I would be happy. I was trying to suck in as much air as I could and concentrate on the finish. Powering past people I had the last 100-200m in my sights, registering a 4:13 for my 21st kilometre - my fastest by a long way.
I sprint finished a 4:03 and crossed the line knowing I'd left everything out there and thrilled to see my watch had registered well under 1:45. My official chip time was 1:43:33. I felt proud of myself after catching my breath. There are few things stronger and more naturally wholesome than runners' high. My months of training in the rain, wind and freezing temperatures had all paid off in that moment.
Although I'd run twice the distance 10 years prior, in many ways, this one felt different, like the beginning of something rather than the end. The marathon was, in hindsight, a one-off challenge I set myself; whereas the half felt like a snapshot of an enjoyable and healthy pastime, and a new, fitter version of myself.
I feel confident to say I will work up to the marathon distance again before too long, when I can fully commit to the training required. Right now, I'm enjoying my running more than I ever have, and can't wait for the next immediate challenge (a 21 minute 5k, 45 minute 10k, and 1h 40 half marathon!)